4-star hotel in Riccione near the sea with wellness centre
Superior quality stays and holidays in Riccione since 1962
Hotel Feldberg Riccione, an elegant 4-star hotel near the beach, is the ideal choice for holidays in Italy, in Riccione. The hotel services we offer are always evolving and look to the highest level to offer you all the attentions that a 4-star hotel today must guarantee its customers.
The location, not far from the city center and the main street Viale Ceccarini, is wonderful for beach holidays and a weekend of leisure, but also for all people who travel to Riccione for work or sporting reasons.
Riccione means hospitality, relaxation, smiles and excellent cuisine. We work every day to make those who choose Hotel Feldberg Riccione find all of this, and more. It's something we love, and that's why it's easy to get to your heart.
HOTEL FELDBERG RICCIONE "SAFE STAY"
From May 2020 we host our guests in absolute hygiene and safety. Trained staff, safety protocols and disinfection of all spaces.
Discover the Riccione Safe Stay protocol.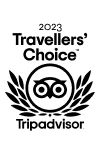 TRAVELLERS CHOICE 2023
We are proud to have received this award and to welcome you to what Tripadvisor says is one of the 10% of the best hotels in the world...